By Marilyn Damon Diamond
November 2011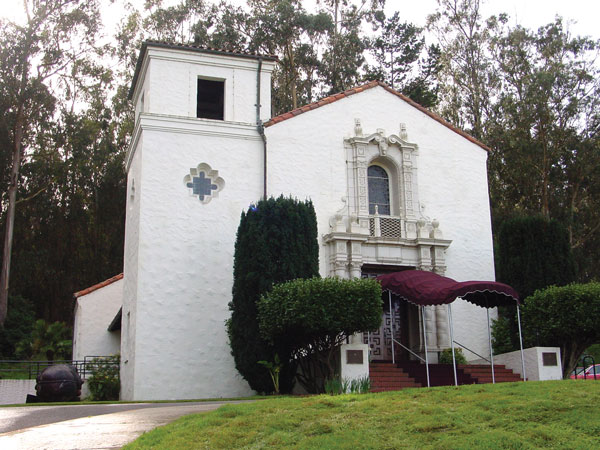 The Presidio Chapel sits on a knoll just off the Main Post Photo: Presidio Trust
There will be no peace among nations unless there is peace among religions. And there will be no peace among religions unless there is authentic dialogue among religions.
– Hans Kung, Catholic theologian
In an age when religions the world over are literally at war with each other, there is a gem in the Presidio that houses a little-known program perpetuating the words and concepts of Hans Kung.
Located in the Presidio Chapel, the Interfaith Center has worked with multiple interfaith agencies in the Bay Area since 1996, two years after the United States Army turned the Presidio over to the National Park Service. Its mission is to bring people of many religions together to foster understanding and peace among the peoples of the world.
A tall order? Certainly. But religion has been a guiding principle ever since the Spanish built the first Presidio chapel on the Ohlone Indian tribe's sacred space in 1776. When the Mexican government claimed the land, it too created a chapel, and finally in 1864, after the land became American property, the United States 6th Army built its own chapel. The Spanish and Mexican chapels were Catholic with a priest leading the services. The American chapel welcomed the Christian, Jewish and Muslim families who were represented in the U.S. Army. In 1931 during the Depression, Congress gave the Army $39,000 to build the current-day Presidio Chapel. The charming building, sitting on a forested hillside overlooking the San Francisco Bay, is flanked by the veterans' cemetery and a colorful garden. The sanctuary seats 175 and displays no religious symbol other than an eternal light. Plaques honoring fallen military Americans adorn the walls.
"The U.S. Army personnel were smart enough to know that there were families of different faiths stationed at the Presidio and they needed a chapel to serve everyone," said Rita Semel, a founder of the San Francisco Interfaith Center.
Presidio Interfaith Center
In 1992, Bay Area religious leaders began talking about bringing together people of different faiths who would share ideas and learn from each other. The Presidio Chapel became home to this group and in 1995, the Interfaith Center of the Presidio was born.
There is no permanent chaplain at the chapel but the Interfaith Center does have a board of directors. "Between 15 and 20 religions have been represented on the board over the years," said Linda Crawford, campaign and project director. Among the Center's extensive affiliations are the North American Interfaith Network, the Parliament of the World's Religions, and the United Religions Initiative.
Celebrations, guest lectures, conferences, and workshops take place throughout the year at the Interfaith Center, which is also popular for interfaith weddings.
Rita Semel recalls escorting six Jordanians who were invited to observe the Center by the U.S. State Department.
"I took them around and talked to them about our freedoms. They were blown out of the water. They had no provision for freedom of religion," she said. "When we talked about how freedom of religion as well as freedom of speech and the right to assembly is part of our constitution, they were amazed. They haven't experienced these kinds of rights in their home countries."
The Interfaith Center at the Presidio and all of its affiliate organizations represent a microcosm of a larger goal, where all religions respect each other and education, not arms, is a common denominator. The Center notes that "the San Francisco Bay Area is known for its flourishing interreligious community, and the Interfaith Center serves as this region's spiritual heartbeat."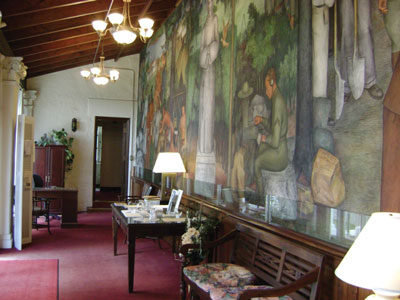 "The Peacetime Activities of the Army," a WPA-era mural by Victor Arnautoff inside the chapel (Photo: Interfaith Center)
The Chapel's Unique Features
For each war since World War II, the Presidio Chapel has set aside an area to honor those who have fallen. When an area was designated for casualties of the Vietnam War, there was enormous controversy due to strong anti-Vietnam War sentiments in San Francisco. It is believed to be the first military base to honor those involved in the Vietnam War, according to Crawford.
Another key ingredient in the story of the Presidio Chapel is its unique and significant artwork. In 1935 as part of President Franklin Roosevelt's Works Progress Administration, artist Victor Arnautoff painted a 34-foot mural depicting peacetime activities of the Army and early Presidio history. Arnautoff, who painted the Coit Tower murals and studied with Diego Rivera, worked on the mural with his team of artists. The San Francisco Examiner published this description:
"The design will measure approximately 13 feet by 34 feet. In the central panel, which will be devoted to religion, will be the figure of St. Francis surrounded by trees. On the left side will be depicted the early history of California; on the right, the Army today occupied in the development of science, the radio, Army engineers examining the project of the Golden Gate Bridge, and approving the construction."
The mural was received with great enthusiasm and is as dramatic today as it was in 1935, the year it was completed. It is located on the wall of a reception area adjacent to the sanctuary.
In addition to the mural, the chapel highlights 11 stained glass symbols created by Willemina Ogterop, the first female artist accepted in a stained glass union on the West Coast. Each piece honors a virtue of military character.
One of the most fascinating artistic works is known as the McDonald Windows Project. In 1944–45, U.S. Army chaplain Frederick Alexander McDonald visited sanctuaries that had been blown up during World War II. Going through the rubble, he picked up shards of stained glass from destroyed churches and synagogues across Europe; he was an expert in stained glass but was not sure what he would do with the broken pieces.
McDonald, his family, and fellow artist Armelle Le Roux decided to create 25 new stained glass windows for a planned chapel addition. All will have the imprint of Fred McDonald's specific memories of collecting what remained of houses of worship devastated by war. McDonald died shortly after the first few pieces were completed.
Plans to Expand
Because the number of visitors increases annually, the Presidio Chapel requires more space and greater accessibility, including an elevator and accessible restrooms. The Chapel is undergoing a capital campaign to raise $8 million to create a 4,000-square-foot addition; more than $3.5 million has been raised to date.
Working with the architectural firm of Page & Turnbull, which oversaw restoration of the Grace Cathedral and the Asian Art Museum, the Interfaith Center is looking forward to restoring the historic sanctuary. The McDonald collection of stained glass will be incorporated into the new design.
The Presidio Chapel is located at 130 Fisher Loop in the Presidio and is open for public viewing on Saturdays and by appointment. For more information about the Interfaith Center, services, tours, or donations, please call 415-561-3930.
Submitted by Aoife LunaFyre


I use a small kitchen scale and measure parts by weight rather than volume, hence the "ounce" measurements in the recipe.  I highly recommend this method.  In my experience, different crops of herbs and different suppliers can cause the essence of your blend to vary greatly if you go by volume parts alone.

you will need: mortar & pestle (or coffee grinder ;), clean airtight container to mix and store the blend in, kitchen scale
Mix/grind together:
.8 oz granular frankincense resin
.4 oz granular benzoin
.4 oz granular gum arabic
.4 oz granular myrrh
.4 oz powdered sweet cinnamon
.2 oz cedar
.2 oz powdered galangal
.2 oz powdered calamus root
.2 oz ground juniper berries
.2 oz orris root
Store these ingredients together in an airtight container for at least 1 week – many people say 2.
After at least 1 week, add:
3 drops Ylang-Ylang oil
.4oz of organic red wine,
a medium sized handful of raisins
agave nectar as needed
You might want to take this time to send positive energy or dedicatory prayers into the blend.  Mix the wet ingredients into the dry with your hands.  Tear and smash and mix the raisins in very well.  Add agave nectar as needed until the blend is the appropriate texture.    The blend should stick together and form reasonably well, but not be as wet and shapeable as clay.  When the texture and blend is correct you should be able to roll homogenous pieces into balls about a dime in diameter.  You should not have giant clumps of raisin or sticky patches of agave, but a very even mixture.
Store this blend together in an airtight container again for at least 1 week – again, many people say 2, because 4 total weeks is a moon cycle.  Many believe this will enhance the magickal power of the incense.
After this time, I recommend keeping your Kyphi airtight and refrigerated.  If you don't refrigerate it, it will grow mold within 6 months.  Alternately, you can attempt to dry it and powder it.  Some people have had success with oven baking Kyphi pills but I don't see the point in that.  Kyphi is so great that you'll use it up before it goes bad anyway!
Everyone at Family Wiccan Traditions International (FWTI) is a volunteer and I am the oldest one.  The younger volunteers and members are very fortunate to have such an organization at their disposal.  I was brought up in a place and time where Witchcraft was illegal i.e., England in the 1940s.  Although my grandmother, who raised me, was doing "other things" while on the surface we were ostensibly Church of England.  I was raised to go to Sunday school and church on Sunday.
If my family had been able to be openly Pagan and followed a Pagan path, then I would have learned those ways in my youth.  I just think then about where I would be today (not to mention that I could truly call myself a hereditary Witch).  Of course there are a lot of "ifs" involved in that theory.
Since my early exposure was to Christianity, I felt that my place was as a Christian clergyman and did so through the United Methodist Church.  Even as a minister, I was always interested in the occult. I found myself fascinated by the concept of the lost continents of Atlantis and Lamour.  I feasted on "The Chariots of the Gods".  My interest took me many places, but it was all self exploration.  It was also like walking along an unknown path looking, but not really knowing what I was looking for.  Now we have the super highway called the internet and we don't really need to know much to get answers.  The only problem with today is there is a vast amount of BS out there and those starting their journey can be taken to a dangerous right off the main road.
I have found that life is a trade off in many ways and information is one of those ways.  There are on-line schools out there that are free and there are those that charge a good deal of money.  Some of the free schools are wonderful and disseminate factual information, while others are just new people trying to impress others.  I know of people who fit this category and as well meaning as they may be, they themselves do not possess the knowledge, skills or abilities to teach and pass on the Craft.  Paying for information doesn't mean that the same issues are not present.
Books are a great source of information that is available to the seeker of the Pagan path today.  Again, there were very few books available as I was growing up and even into my early adulthood.  Today the market place is rich with information about Paganism, Shamanism and Witchcraft.  Some of this richness comes from the minutia that is out there among the valuable information.  Remember also that often times the information in books are the opinion of the author and not necessarily a universal truth or a rehash of previously published material.
Books can only take you so far in Paganism and Craft work.  There are things that you can only learn from a mentor (be it HP, HPs or Teacher).  There is much to be learned by doing and be getting guidance from someone who has done and been successful in doing so.  There is also the pronunciation issue. If some one pronounces Samhain, Sam Hane instead of the proper pronunciation Sow'an, then you know they have only read about it and have not been exposed to any actual coven, HP or HPs.
So if, unlike me, you were born into a Pagan or Wiccan family you are truly blessed.  If not there are many resources at you disposal today that were not available to those of us who grew up in the lean days.  Many reputable teachers and covens, just check them out before getting too involved.
Blessed Be,
Cheiron
By Rowan
Walking the witch's path means walking between the worlds. We are children of the earth, of the seasons and cycles of nature and for that reason we pay homage to what we see and feel in the natural world, right outside our door.  However, we are also seekers of the unseen. Our ritual lifestyle leads us to constantly look for the Source of our natural world.  This Sacred Source can't be seen with our physical eyes, only felt somewhere in our soul. One of the wonderful benefits of living this way, fully aware of the practical world, while also fully aware of the spiritual dimensions, is the quiet gift of intuition.
Some witches and pagans are born intuitives. These witches are accustom to listening to their feelings about life, and respecting their sense of how things are or how things seem to be.  Other witches spend time cultivating their 'knowing' self.  These folks may be begin to have psychic flashes or intuitive senses almost by accident, as a result of meditation or spiritual devotion.  Either way, intuition becomes an important force for most witches in their life and in their religious practice.
So how can we work with the still small voice within?  How can we make it just a bit louder and easier to discern? There are some definite, specific approaches that will expand our intuitive awareness. Luckily, if we are on the witch's path, these are attitudes and states of mind that we are already working to cultivate.  To progress on both paths, we have to learn that its alright to have a minority opinion. We must give ourselves permission to pay attention to our unique experience and honor it.
By the time most of us self identify as witches, we are way deep into being different.  However, it can still be tough to feel or see things from a separate perspective than our peers.  This is even more true when those peers are fellow conveners!  But, the payoff for listening to your heart  can be tremendous. When the group thinks one way and your inner sense is telling a different story, simply allow your inner voice to dominate the experience .  Its always tough to be the odd man or woman out, however this is an essential step in giving voice to your inner knowing.  And, by simply being aware of your feeling sense, your perceptions will become clearer to you and they may prove to be quite accurate guides.
It's certainly not necessary to be loud in your disagreement. Just get in the habit of being true to your feelings about things, regardless of others' perceptions.  Sometimes you will be right and sometimes you will be wrong, either way is just fine.  Its all part of the process of understanding your own unique experience. And even the times that your are wrong will be an opportunity to understand your personal point of view and which experiences are shaping your perceptions. This process will  help your intuitive voice to grow strong.
Another doorway to intuition is imagination.  We witches and pagans are generally an imaginative bunch! We create rituals and seasonal celebrations that are full of color, scent and theater, all for the love of creation and the joy of worshipping. To unleash your intuition, can sometimes be as simple as allowing a little more space for your imagination. If we allow it, the habit of dreaming, and daydreaming is another way that the universe can deliver intuitive information to us.  When we were children many of our parents told us to get our heads out of the clouds, stop being such a dreamer, and be serious, realistic or practical. My own maternal grandmother used to call me the dreamy girl, due to my ability to sit still and disappear into my own fantasy world while the adults discussed things I found dull. The grown up version of this is the daydream.  We often go into this state by accident when we are doing dull repetitive things, like washing the dishes, or driving a car. It seems as if our mind is just entertaining  us with random fantasy, however I would encourage witches to take note of these reveries.  At times contained within imagination and dreams are plenty of wise gems.  The trick is to allow the experience and give it a bit of credence. Notice who is speaking to you during these daydreams.  What is that they say? If you are fantasizing about your future, then what do you notice about it? Is there any unusual or surprising elements to the picture you have laid out for yourself. Your intuitive imagination may be trying to tell you something.
Once you begin to pay more careful attention to your inner life, both your thoughts and feelings, its a great idea to journal your impressions.  At times the voice of intuition is a quick light flash.  Not a shout, but more of a whisper. Much like the dream that disappears from consciousness before you finish your morning coffee, intuitive feelings can dissolve from our minds just as quickly and completely.  By jotting down all the crazy random thoughts and feelings that come to you, you may be surprised just how many of them are astonishingly accurate. You will gain confidence from this practice and also begin to get used to what your particular intuition vibe is.  Are you normally correct about your children but less tuned in to your work life?  Are you a weather witch, who knows when the local weather man is wrong, and the storm is really going to blow out to sea, not drop rain?  Journaling your feelings may uncover your pattern, and help you develop it even further. We are all unique in the way that we receive information, and understanding your special feelings, how they come to you, what the vibration is like, can raise your level of confidence. It an also give you the important skill of recognizing what it feels like to be correct. This will help you to have better discernment in the future.  You will start to know the difference between random musings and the ones that are bringing information, or truth along within.
Prayer for Intuition
Divine and Ancient Mother, Wise and Protective Father,
Lead me this day and every day into a deeper understanding of my self.
Bring to me, the experience of Intuition, Knowing and Truth.
Bring to me also signs and symbols of a wise path and help me to clearly interpret these signs,
And help me, please, with your loving presence, to live this Truth to the best of my abilities.
And so it is.
Rowan


In my current personal practice of Wicca, I understand that there needs to be a balance of energies within my religion. I find though, that more often than not, we Witches are considered part of a Goddess religion. I am aware that this may have been the case when the Craft was first revived (in the 1950s); however, I believe, with the exception of Dianic Covens, that most of today's Witches see the advantage of a balance of power in rituals, rites and our relationship with the gods.  I have no problem with those who wish to continue to call Wicca a Goddess religion, but for me I want balance in my Deity, in my rituals, prayers and the leadership of our coven.
Perhaps some of the Goddess emphasis came from the pendulum swing created when many people changed from the patriarchal structure of the Christian world.  This being the point from which most of us began out spiritual journey.  I believe it is a challenge to transition from the single Deity (God) or even the God in three persons (all male) to a concept of many Goddesses and Gods (polytheism).
When I first entered the Craft it was very much a Goddess religion. The God was only acknowledged as the consort of the Goddess and the High Priest was just in circle to protect the High Priestess.   Neither I nor any other male Witch was ever allowed to touch the altar or even be taught how to activate the altar.
I know that times have changed and we are more eclectic today than back then, however, there is still the feeling that we are Goddess orientated.   In an attempt to visualize the concept of balance between the God and Goddess I looked at the Tree of Life within the Qabalah.
Before we take a look at the Tree, be aware that the Qabalah is more of a universal symbol than one of the Judaic/Christian doctrine. It is a Hermetic tool and most likely predates Judaism. As such, we Witches can use the Tree of Life to help us understand the Universe and life itself, but that is beyond the scope of this article. For this example, I want to use just the three top spheres (Sephiroth) or what is called the supernal triangle.
If we conceptualize Kether at the top of the supernal triangle as Deity, then we have a starting place. Kether is understood to be both male and female.  It is the focal point from which everything emanates. From Kether the force or energy is directed to Chokmah which is the male representation of God and to Binah which is the female representation of the Goddess.   Binah represents the Mother Goddess and Chokmah the Father God. As we descend the Tree of Life we find all the Goddesses and all the Gods placed according to their traits.
Although this correlation may not work for those who are not familiar with the Tree of life it is a great visual for those who have at least a cursory understanding. Given some thought you may even find a visualization and correlation that works better for you.
That being said, it begs to ask the question; why is balance important and what is wrong with Goddess religion?   It really depends upon what you are looking for on your spiritual path.  If you are tired of male dominance and are looking for a change in favor of the feminine then this is not an issue for you.  However, if you believe as I do that real magick can only occur when both masculine and feminine energies are employed, you will be obliged to move to that space between masculine and feminine enabling you to access both.  The magick of reproduction in humans and most animals requires the male seed and the female egg.   Magick does work best with that balance of energy.
Since it is your path you follow, only you can decide whether or not to follow just the Goddess or a balance of the God and Goddess and to nurture that balance within your circle and your life.
Copyright 2009
Lord Cheiron
Listen to the Earth Mother
Hear what so few hear
Beneath her Winter crust
Beats the heart of life yet lived
Listen with more than your ears
Use your heart and you emotions
Reach down deep with your mind
Know the stirrings soon to burst forth
Listen and know that which is seldom known
That which has slept through Winter
Will soon awake to the call of Spring
Those that have listened will be ready
Children of the gods know
It is the unseen explosions of life
Life that will soon be seen
As Spring arrives and the wheel turns again
Lord Cheiron
Copyright © 2011
I raise my glass to Deity
To the Goddess and to the God
.
I drink to the Ancient Ones
To Tradition and to Mystery
.
I drink to the Ancestors
To Bravery and to Sacrifice
.
I drink to the Elders
To Wisdom and to Clarity
.
I drink to You
To our brothers and to our sisters
.
I raise my glass in Blessing
To the Past, Present and to the Future
.
All:
To Perfect love and Perfect trust
So Mote it Be
.
Lord Cheiron © 2010